What Our Clients Are Saying
Profound Thanks
"Terri, you are a jewel in my life. You started me healing and getting better. I can do things today I could not do before I came and was blessed with your treatment."
~Lucy Scott
Strong Footing
"When I got home and put on my slippers I noticed my feet were four square on the floor in a whole new way. My sacrum feels better already. Your work is remarkable. Thank you, Terri!!"
~J. Brugioni
Migraines Gone
"Terri has special gifts to not only help you connect with your own body and provide healing during treatment, but she provides at homework so you can support continued healing and be your own healer. I've had migraines for years and working with Terri and the continued work I have at home from her, I've been fortunate to not have one migraine all year! She has a beautiful touch, calm nature and pure energy, optimizing your own energy to bring forth your best intentions and reach your own success."
                                      ~Richelle G.
Brain Healing Journey
"I am so lucky you and your [therapy dogs] Henry & Hannah have been part of my healing journey! You are wise, caring, fun and patient. Your incredibly creative approach to my complex traumatic brain injury is unique… [and] has me deeply reflecting on my blessings."
~ Simren Rai
Throbbing Neck Pain Gone!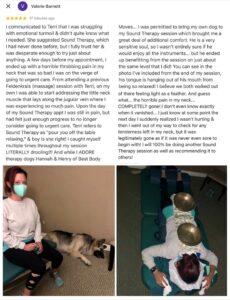 Car Accident Recovery
"I've seen Terri for two different [car accident] injuries. Both times because I was rear-ended in my vehicle at a stop light. Terri's unique approach to massage helped get me back to pain free movement. She is very professional and I appreciate how she explains what she is doing while she is working on me. I feel like I leave her office knowing more about my body and how to take care of it!"
~Cynthia Crotty
Feldenkrais Movement Workshops
"I keep thinking wow! I don't remember when my hips felt so fluid. I have always been so stiff… this is a new feeling and my hips are actually rolling as I walk down to the mailbox! Thank you for this evening's lesson! "
~Pat Askren
"It was a great class. Your manor, voice, word pictures and experience minister to our souls/bodies. My sister really connected physically and emotionally ( she is SUPER in touch with emotions). That was a good thing…happening! Bless you."
~Judy Fisher
"I can move my neck past my right shoulder today, which is something that was always painful to do in the past.  Your session was very relaxing and helpful.  Also appreciate the homework for my daily neck exercise! "
~Jackie Poland
Happily Avoided Surgery
"Terri Rossi honestly is a natural born healer. Her knowledge, intuition, compassion and skilled proficiency have saved me from having to go through a surgery. It seems like she calmly leads you out of pain with her Feldenkrais work. I feel her work is worth every penny. If I were to have gone through surgery like the Orthopedic Dr wanted me to I would have spent more $$$$ and more time in pain! My advice to you would be GO as soon as you can! Even if you're not at the point of a pending surgery you're going to benefit physically and more just from meeting Terri."
~ Katherine Dumont
Family-Recommended
"Terri is excellent!!! Very effective and cares deeply about her patients. She is great at evaluating the issues, determining the root causes, and treating. She has treated me for several conditions with excellent results. In one treatment she resolved a long-standing issue for my brother. He was astounded. A chiropractor had been treating him for the issue for months with little progress."
~ Krista Rosemary
More Thanks
"Always the best. Terri is your go to person for any pain, relaxation, or just rejuvenation." ~Sarah E.
"Terri is a miracle worker." ~Daryl J.
"The yesterday session made a profound impact on me. I will never forget it." ~David Abraham
"You really have made a difference in my life Terri. Not only for your great knowledge which you share with me but also your friendly vibe that greets me each visit." ~Teri Baker
"Thank you for yesterday, it was amazing the difference I felt after 1 session! You really brought body awareness to the forefront for me. ~Kelly Knight
Stop Pain for Good
"Nontraditional by way of what you would expect [for massage] but what she does has amazing results. She is Board Certified and helped write the [national tests] for LMPs. I recommend her to ANYONE in pain who wants it to stop for good. If she cannot figure it out then I don't know who can."
~ Becky H.
Truly Great Experience
"Terri Rossi is authentic and has amazing gifts. Her healing hands, clarity of mind and a deep knowing brings to her practice a truly great experience. I highly recommend Terri."
~ Jackie Ireland
Cancer Symptoms Reduced
"Terri is an amazing practitioner! I have stage 4 cancer and neuropathy pain. I've gone to her often for relief. The great part is that her therapy works! I only go now when it flares up a couple times a year. Her price is great for the results that I get, which is basically being able to live my LIFE!"
~ Xochi M.
Healing Angel
"She's a healing angel. best body work ever! Amazing, total expert."
~ Victoria Stevens
Worth the Drive
"I first started to see Terri at her clinic in Kent, Washington 16 years ago. She has always been outstanding in her all different modalities! That is why I am happy to drive to see her over 30 miles from my house one way. I always enjoy going across the Narrows Bridge it's really relaxing and peaceful especially at Terri's office. Her specials are priced very reasonably!"
~ Alberta Wells
Traumatic Brain Injury (TBI) Recovery with Feldenkrais Method
"About 6 years ago I severely fractured my C2 vertebrae and have suffered from neck pain and headaches since. I was referred to Terri by a family member and am forever grateful! The Feldenkrais Method is a life saver and should be used much more than I've seen [in the US]. Thank you very much for giving me the tools to continue bettering my body!"
~ Brandon Kuntz
Knowledge + Caring = Healing
"Terri Rossi of Best Body Moves has an intricate knowledge of the body and how to achieve [your] desired outcome. Ms. Rossi has a professional, calming and delightful way of communicating the knowledge you need for your condition. Terri was a huge help to me. Hope you try her services."
~ Sandra Wade
Sciatica and Back Pain Gone
"In just two visits, Terri has shown me how to relieve pain that I have lived with for years! She is knowledgeable, kind and easy to work with. Go see Terri if you need help with acute or chronic pain!"
~ Jeanette Berry
Doctor-Recommended, Family Trusted
"I was referred to Terri from NP after a motor vehicle accident. She has been outstanding on working with me and my insurance to get me back to 100% as quickly as possible. I have recommended a family member to her for back and neck issues and he is as pleased as I with his progress!"
~ Russell Kuntz
Scoliosis Relief with Feldenkrais Method
"My scoliosis had given me back pain since I was 12. I stood and sat with my back rounded and shoulders and head forward because my muscles were in spasm. Terri Rossi has tremendous knowledge of muscles, ligaments and body movement patterns. She made specific gentle movements to retrain my body to a 'new normal.' One that was actually more upright and much more comfortable. I no longer am thinking about my back pain, and that is awesome!"
~ Sandra Erickson
Complex Injuries Improve with Feldenkrais Method
"Terri is a highly qualified therapist that provides superior injury and recovery and pain management. I have sustained numerous injuries throughout the years; being treated by no less than 5 Physical Therapists. The personalized treatment and care that I have received with Terri Rossi at, Best Body Moves, is far superior than any other treatment that I have been provided in the past. Her treatments are unique and effective and provide positive results!"
~ Sheree Bankson
Worth the Drive for Feldenkrais Method
"I have been seeing Terri for 10 months after my therapist retired. I drive an hour to get to her and it is so worth it. I love being greeted by Hannah. Terri has addressed each issue, my neck back, hips, really everything from head to toe. The change and improvement has made a huge difference in my daily life and activity."
~ Kay Johnson
I Was Healed
"Terri has a gift. I experienced Sound Therapy with her and she healed me. The sound therapy has the ability to quiet the brain and put me into a theta state of mind. (It's where the brain relaxes.) The very first time I experienced it, I couldn't talk for a hour afterwards because I was so relaxed. I had to whisper slowly. My mom kept saying what? What? Since then I have loved going to her about once a month."
~ Shawna Shelton
Pain Melted Away with One Session
"Excruciating thumb pain radiated up my arm and into my neck ever since surgery nine months ago. The hand and arm pain was gone at the end of the session. I came to Terri because she was highly recommended and the work she did was a miracle!"
~ Lois A.
Body and Spirit Balanced
"Terri is such a compassionate person and it shows in her services. I came to her very broken and after my session, I calmed down enough to allow my body to shift back into balance. Her work is incredibly nurturing and healing."
~ Jo K.
Visits Have Been Stellar
"Terri, you've opened a new door on how to think about my body – and stay healthy. I appreciate your systematic assessment of muscles and nerves. You got my attention."
~ Deborah O.
Shoulder and Back Healing
"I have been to Best Body Moves/Terri Rossi for the past 2 years for both my shoulder surgery rehab and back injury due to car accident. This has been a place of healing and pain relief for my body. I would recommend this type of therapy for anyone who is suffering from pain, stiffness or just wants to improve their golf game or any sport."
~ Cheryl G.
A-M-A-Z-I-N-G
"Thanks for the assessment, analysis, adjustments, attitude, adventure, assistance…….any connection or similarity in the wording? No, not that they all start with the letter "A". That they all rhyme? No, they don't. That they were all conjured up by an ill mind? How dare you! That they are all coincidentally descriptive words pertaining to you. Dang, I think I left out awe inspiring. I also left out AMAZON because they are way too tall."
~ Wild L.
Sherlock Holms Problem Solving
"Terri, You are the very best in the Puget Sound area. You don't mask symptoms and get to the root cause of any problem quickly. You are an asset to know, refer and a great person in general. It is certainly a pleasure to know and can use you (as I age and still try to stay young)."
~ Bruce B.
Sound Vibration Therapy is Magical
"Thank you, Terri Rossi, for your generous healing touch and sound vibrations today as I had the pure pleasure of experiencing Sound Vibration for the first time! I can hardly wait to return to Best Body Moves and experience some of the other sessions you offer! Thank you again for a magical experience today!"
~ Dyann L.
My Dog Regained Knee Strength and Movement
"I brought Kona, my 4-year old female boxer in to see Terri after she had two major TPLO knee surgeries. The atmosphere and energy in her Gig Harbor office was very welcoming for people as well as pets. Terri was very good at understanding how much and what type of treatment Kona could handle each time we came in. By the time we left Best Body Moves, Kona had made leaps and bounds of improvements in energy, form, and muscle tone. It's like I have my old dog back again!"
~ Troy J.
Feldenkrais Therapy Changed My World
"Doing Feldenkrais work with Terri has made a great positive difference in my physical activity, posture and sleeping comfort. I love the concept of retraining the brain and creating new patterns for movement and all the strength and healing that comes along with doing this therapy. I am learning so much!"
~ Nicole B.
Enjoying an Active Lifestyle Again! My Neck, Back, and Knees Feel Great
"I received message therapy from Terri for about a year and I can really say my condition improved. Before I went to her I was wracked with pain all throughout my body, especially in my neck, back, and knees. But thanks to her caring touch, obvious acquired experience, and knowledgeable insight I've been able to continue in the active life style I enjoyed as a young woman before I received my injuries. Along with aiding me in my physical pain relief in the moment she gave me advice and recommendations of simple stretches and posture changes that I can say make a world of difference as far as on going pain management. In my recent relocation she also left me saying, "once a client, always a client," and that I could email her anytime with questions or concerns, which I have taken her up on. I would definitely say if I wouldn't have moved out of area I'd still be entrusting my physical well being to her. Thanks Terri!"
~ Candace O.
Phenomenal! Sleeping Better Than I Have in Years
"Terri's expertise in proper body movement is phenomenal. She gave me the tools to put my body in working order through exercise and proper resting positions. She even went as far as to help me in arranging pillows for a comfortable night's rest; which I hadn't seen in many years. If I had not met Terri I can honestly say that I would not have the quality of life as I have now. I would highly recommend her for a lifetime of pain and stress relief!"
~ Sheree B.
Relief from Whiplash Pain on the First Visit and Amazing On-Going Relief
"Terri is one of the most talented therapists you will ever be lucky to come in contact with. ANY pain you have, from the hardships of life or an accident, she can take away and keep that pain away. With all of her different techniques and caring spirit, you will be pain free with Terri. Not only is she a caring and fun person to be around, she actually cares about you as a person and your well-being as a whole. She assesses your pain/problems and tackles them! I was rear ended at a complete stop at about 50 mph; let me tell you…my pain was intense! Neck pain, shoulder, back, hip, foot, wrist…after one visit with Terri, I was so relieved!!! After all of my visits with Terri, I had no more pain! I still go to Terri for my headaches & reoccurring shoulder numbness…she always eases my pain! She's truly the BEST! You won't find another therapist like her! And you won't regret going to see her! THANK YOU TERRI! YOU ARE A LIFE SAVER!!!!"
~ Katie R.
Relieved My Stubborn Chronic Pain
"Terri Rossi is nothing short of brilliant and gifted at medical massage therapy! I first went to her with a tough chronic pain problem that no one else seemed able to help with, and I am feeling so much better. She is professional and yet also very caring and patient. I ALWAYS feel better and encouraged after a treatment. Terri has given me exercises and tools to live a healthier and more pain free life!"
~ Melinda P.
Speedy Recovery from Surgery Impressed My Doctor
"I had shoulder rotator cuff surgery and my doc said to wait 8-12 weeks for PT. I didn't want to wait so long and the doc said I could have Feldenkrais therapy 2 weeks after surgery because it was gentle. I saw Terri Rossi at Best Body Moves. In only 4 sessions, my pain GREATLY decreased and my shoulder and arm movement was super. My doc called Terri to personally say thanks. If you're someone who has had surgery and would like fast pain free results without spending 2-3 time a week with a PT, go to Best Body Moves."
~ Mike B.
WOW! Feels Great After Treatments
"All I can say about Teri is WOW!!! She's the best massage therapist around. She Truly cares about her patients and really listens to their concerns and you DONT leave her office feeling like a piece of meat that was pounded all day. She is an Angel…"
~ Jeffry M.
Terri is awesome
"Terri was very educated and knowledgeable which is always nice. Very informative. I was approved for 8 therapy sessions. I started with a different therapist but I just didn't feel I was getting the relief I wanted so after 4 sessions with a previous therapist, I gave Terri a call. She had availability and was able to get me in right away. I was pregnant and my lower back was not doing so well. When I would see her for our session, it seemed like an overall concern she had for me. It wasn't just a massage in and out. She would ask me about all the concerns I would have related to pregnancy. She was awesome."
~ Briana H.
Amazing and Knowledgeable
"Terri is both a teacher and a healer. She will work on you and continually teach you about bettering your situation."
~ Bryan H.
Amazing Massage Therapist!
"Terri has helped me so much with relaxing my stressed muscles from living with Multiple Sclerosis (MS) and Fibromyalgia (FMS). I have suffered with neuropathy and the "gentle massage" without hurting me has been so very effective. Terri has a wealth of knowledge about how our muscles perform and uses the Feldenkrais Method to help my mind and body perform at the best possible level. My own range of motion has been improved greatly after suffering my third stroke since 1988. I was able to start working out at a local fitness center for the first time in years! THANK YOU SO MUCH, Terri for using your God-given talent to help others. I am very grateful."
~ Cheryl T.
Best Therapeutic Massage EVER
"Terri is great. I have had major issues with my muscles and pain for years. My work tends to get my body stressed out, tight and leaves painful spasms. Terri uses her knowledge of human anatomy, Feldenkrais techniques and muscle – nerve interactions to allow me to be pain free. She tries to determine the root of the problem causing my pain instead of a temporary fix. My treatment from Terri is not like any other massage, in fact she is like a gentle physical therapist that actually works to heal. She is truly THERAPEUTIC. If you want to get a REAL fix for your problems, then try her out. Just like any treatment you get – you have to find out what works for you and your body. Terri can work with you to assist you in being pain free — yes she CAN."
~ Kealy M.
Migraine RELIEF – Finally!
"I endured years of debilitating migraines. It was so bad, I lost several jobs. Terri Rossi and her AMAZING hands (and insight!) gave me back my sanity and, YES, my life. Sounds corny, but if you've been in pain a long time like me, you know exactly what I'm talking about and want the same thing.
"Like some other reviews here, I have been to MANY MANY doctors and even neurosurgeons to stop my pain. NOTHING worked until Terri figured out and treated the root of my problem — not just the symptoms. She even recommended a great chiro, Dr. Saggau, who also specializes in migraines. Together they worked to make life wonderful again. Bless you both!!!"
~ Dee A.
Exceptional Bodywork Experience
"I can highly recommend Terri Rossi, Best Body Moves, as a Feldenkrais practitioner who is superbly qualified and talented at what she is doing. She is knowledgeable, with an ability to communicate and share information in a way that is clear and easy to comprehend. Before and after pictures were taken of the positive change that was made [in only 1 session] several years ago, to the acquired scoliosis I've lived with for most of my life. The changes are remarkable, have remained, which lead me to believe they are more than temporary. Thanks to Terri, that is."
~ Judy
Made more sense than my PT and MD
"Terry Rossi explained clearly and concisely what my doctor's diagnosis mean in REAL words and offered actual SOLUTIONS that WORKED. I'm not one of those 'pain freak' people who want to feel pain during and after their therapy because they think that somehow that makes them get better. I mean, WTF?? What kind of crazy thinking is that? I totally agree with Terri who believes there is little to gain by increasing pain to get well. And my body believed her too! You're awesome and many thanks."
~ Darius L.
You have CHANGED MY LIFE
"I can now live a full life again thanks to the comfort and movement you brought to my back. After my back was injured from heavy lifting, I went to therapist after therapist for help. Over 5 years I've seen several chiros, PTs and massage therapists – even acupuncturists. NONE were able to help me the way that you did after ONLY two sessions! My doctor told me that he refers all his patients to YOU because you track down and solve pain problems. And because your therapy is so gentle. He was right on all accounts. Thank you!"
~ JR
I feel so much better!
"I started working with Terri when every part of my body was hurting but no one could seem to figure out why. What I love about her is that she puts you back in the driver's seat of your body. She never plans on having you be a permanent patient. While she makes your body feel great during the massage, she also spends time in each session explaining how your body works, what you are doing to make your body hurt, and giving you exercises to strengthen weak muscles. She also made recommendations of chairs and other tools I could purchase inexpensively to better care for my body. I feel so much better and I am in control of my body again. I couldn't recommend her enough."
~ Cindy P.
The very BEST
"Terri truly does have the "BEST BODY MOVES". Whether you are suffering the after effects of an accident or just sore muscles from too much weeding, raking or window washing Terri can put the comfort and ease of movement back into your body. You'll be feeling GREAT in record time! She uses the most incredibly gentle touch (you sometimes wonder how it could possibly be helping) not the rough treatment you often feel at the hands of a chiropractor. And the results are long-lasting. Terri is continually going back to class to learn more and update her already considerable skills to help you feel your very best. Do yourself a favor and make a booking SOON. Your body will thank you."
~ Carol O.
Thrilled to be on a Treatment Plan That's Working
"Thank you for making the time to see [my son] today. I can't even tell you how relieved I am and how wonderful it was for him to call me and sound just so encouraged! So I'm thrilled that we found you, and that he's on a [migraine and concussion] treatment plan that's actually working. It means a lot to me that you're willing to make that type of time for a total stranger."
~ Kathy L.
Feeling Great
"Thanks Terri – I feel great! Pain is absolutely gone. Thank you."
~ Vienna L., Kent, WA
Gentle, Relaxing and Highly Effective
"Since my session I've been noticing shifts in my body. Sessions are so gentle and relaxing it's amazing how much shifts and comes into alignment during and after each session."
~ Krista Rosemary, Kent, WA
You Are An Angel!
"I was so worried after talking a bad fall in the shower (at age 85). Terri fit me right into her schedule and worked her magic! I had no bruises, no soreness, no aches, and no pain. Her ability to evaluate, treat, and create results is amazing. I've seen Terri for other less pressing issues, too, and always feel better and more lively. Thank you Terri, you are an angel!"
~ Mary Lewis, Renton, WA
Numbness and Pain Have Disappeared
"Terri Rossi has helped me tremendously with her deep tissue massage. The numbness and pain in my hands has completely disappeared. Lack of flexibility in my shoulders and standing straight is now been corrected and it is easy and natural to stand straight and move easier. I highly recommend Terri to those who are ready to change physically, emotionally and mentally."
~ Alberta Wells, Auburn, WA
Feeling Ease and Harmony
"It is the third day after our session and I again awakened to experience a newfound ease and harmony."
~ Wes House, Kent, WA
Feeling Better All Around – Truly Amazing!
"I wanted to let you know how much you helped me…my ankle, my shin, my foot – it's so much better! In fact, the swelling has not returned since you worked on me. That's truly amazing, and I thank you. And also, my hip is so much better. I just feel so much better all around."
~ Dena McCauley, Federal Way, WA
Feeling GREAT!
"I feel like a million since seeing you."
~ Lisa Earl, Covington, WA
Restore Your Natural, Pain-Free Movement
Contact us today to make an appointment or to request a free phone consultation (lunch time is best) with a therapist if you have questions about which therapy best fits your needs.
"My shoulder, due to a calcium deposit in the rotator cuff, was very painful to move and had limited mobility. Thanks to Terri's work around the shoulder, the pain is decreased and the joint is more mobile."
~ Martha Derr